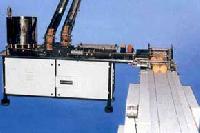 We are one of the well reckoned Biscuit Sandwich Machine manufacturers and suppliers from Mumbai, Maharashtra. We manufacture and supply premium quality wire cut biscuit sandwich
...more
Alif Ovens
Maharashtra, India | Manufacturer / Exporters / Wholesale Suppliers
http://www.biscuitplant.in
We are offering Biscuit Packing Table. For conveying stacked biscuits on edge in long rows for easy lifting for packaging through wrapping machines. design: horizontal type
...more
A J Tech
Punjab, India | Manufacturer / Exporters / Wholesale Suppliers
http://www.exportersindia.com/a-j-tech/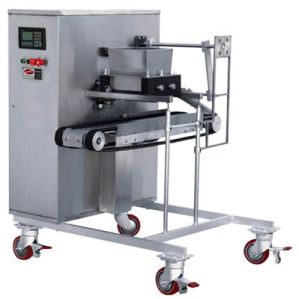 We Manufacture computerized Cookies Drop Machine that is ideal for dosing and forming on trays of liquid hard and dense dough. This Cookie Drop Machine can store multiple programs
...more
Pritul Machines
Uttar Pradesh, India | Manufacturer / Wholesale Suppliers
http://www.exportersindia.com/pritulmachines/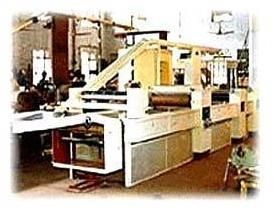 We are engaged in offering machinery for biscuit plant, which is fabricated using premium quality parts and components at the vendor's end. These machines are compact, durable,
...more
Saijee Impex
Maharashtra, India | Exporters / Wholesale Suppliers
http://www.exportersindia.com/saijeeimpex/
Steel traveling belt for oven 2-47, LK-5, LK-6 etc.Canvass beltEndless beltingRubber / metal rollerFiber Scraper KnifeBiscuit cutting dies for salted and hard dough biscuits. .
...more
Kdr Industries
Maharashtra, India | Manufacturer / Exporters
http://www.exportersindia.com/kdrindustries/
We are offering biscuit rotary cutting machine. Rotary cutting machine forms the shape of the biscuit out of the dough sheet coming from the gauge roll unit. The sharp edges of
...more
Sehgal Engineering Works
Punjab, India | Manufacturer
http://www.exportersindia.com/sehgalengineering/
We are known for offering high quality Rotogravure Packaging Products. These Rotogravure Packaging Products are available in different substrate materials like paper, polyester,
...more
Kamakshi Lamipack Private Limited
Tamil Nadu, India | Manufacturer / Exporters / Wholesale Suppliers
http://www.kamakshilamipack.net
Prayas Enterprises
Maharashtra, India | Manufacturer / Exporters / Wholesale Suppliers
http://www.exportersindia.com/prayasenterprises/
New Era Machines
Punjab, India | Manufacturer / Exporters / Wholesale Suppliers
http://www.exportersindia.com/neweramachines/